Why Are There So Many Dog Breeds?
Why are there so many dog breeds and why do creatures that came from the same roots vary so much in size and looks? How is it that a Chihuahua and an Irish wolfhound are the same species? Dan Nosowitz wrote a fascinating article on the many variations of dog breeds. Simply put, different dogs were bred for different tasks. Now those traits define each breed.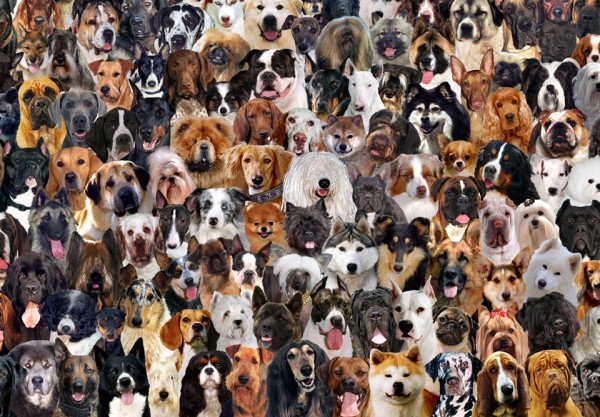 That sweet cocker spaniel, just like Lady in Lady and the Tramp? Its ancestors were bred to hunt woodcocks. The border collie that guards your children and tries to herd them is just following the instincts that were bred into its ancestors to herd sheep. The petite Yorkshire Terrier that fits in your purse was formerly bred to catch and kill vermin.
But the obsession with very specific physical and behavioral traits of dogs emerged in the Victorian era, from 1830 to 1900. In the latter part of the period, the American Kennel Club began recognizing specific dog breeds and rewarding them for purity. (That's despite none of these breeds being very old at all.) England, Ireland, Scotland, and Wales became something of a hotspot for dog breeds; many of today's most popular ones come from this time and those places.
When choosing what type of dog to get, there are many things to consider. How much care and attention does it require? How much space does it need? How affectionate do you expect your pet to be? There are many on-line dog breed polls to help you decide which type of dog breed is best for you. Whether you go to a reputable breeder, rescue a mutt from the animal shelter, or consult your veterinarian to see who has puppies needing a good home, knowing the history of your dog's breed can give you an idea of what to expect. Many people believe dogs descended from working and hunting species are more intelligent and make better pets.
Mastiffs were bred to be guard dogs. There are several varieties of mastiffs, including the Newfoundland, like Nana in Peter Pan. Dachshunds were originally bred to hunt badgers. The golden retriever, now best known for its beautiful coat, was once bred to fetch waterfowl. What is the point of a pug? It was bred to be a companion animal, one of the very few breeds of dog bred specifically to be a pet.
Whether you choose Fred Basset or Marmaduke, if you need information on how to take better care of your dog, contact Canine Commander. We offer training, boarding, and behavior modification.