Is Your Pet Envious of Working Dogs? Get Dog Training Long Island Nassau
Of all the animals that humans have domesticated over the years, there are not any that are as versatile and useful as dogs. People have been training dogs to hunt since ancient times, and in the 19th and early 20th centuries, dog sleds were the most reliable form of transportation through the snowy climates of Canada and Alaska. Today dogs are used to guide blind people, detect bombs, and hunt down criminals. We have Search and Rescue dogs, seizure alert dogs, and even dogs that sniff out illegally caught fish. The jobs that dogs can perform seems endless, but why is it that dogs are so likely to do them?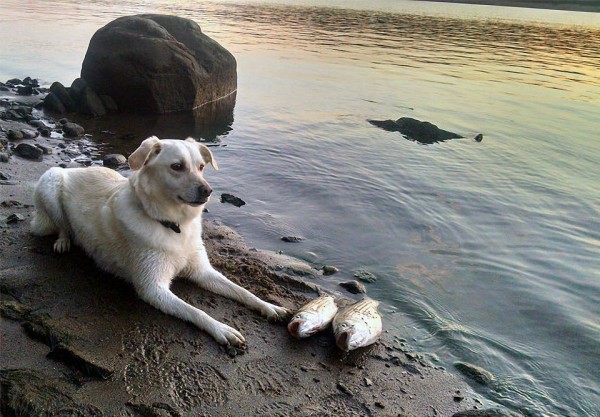 The fact is, dogs love to work. When dogs have a job to do and are treated well for doing it, they get the same sense of satisfaction that humans feel for a job well done. Dogs love being rewarded, but more than that they like to earn their rewards.  Like when "Saydee", a Connecticut Department of Energy and Environmental Protection (EnCon K-9) fish-sniffing dog found her mark.
The Labrador Retriever named "Saydee" a dog trained by the Department of Energy and Environmental Protection (EnCon), had just finished up her training.

EnCon officers saw the two seen fishing Friday evening on the Housatonic River in Milford and stopped to conduct a fishing compliance check.  The men said they had not caught any fish, but the officers dispatched their specially trained canine "Saydee" who searched the shoreline and found a black trash bag tucked in a rocky embankment.

An inspection of the bag revealed two striped bass that measured only 15 and 19 inches in length. State regulations limit the possession of striped bass to one fish per angler at a minimum length of 28" in an effort to protect the resource.
Ask anyone who works alongside dogs for a living, whether a dog trainer or K-9 handler and they will probably tell you that their dogs are never happier than when they have completed a job.
Last lobster miniseason, Gauge alerted to a cooler that contained some lobster eggs. The divers had brought egg-bearing females into their boat, which is against the law, then discarded them. His reward for detecting the illegal catch: Gauge gets french fries from McDonald's.
So if you are not planning to train your dog for service or police work, how can you give him that same sense of self-satisfaction and fulfillment that working dogs have? The best way is to invest time in dog training Long Island Nassau. A recent study shows just how much dogs enjoy completeting tasks.
What did the researchers find? The dogs who were rewarded for performing tasks were more active and wagged their tails more than the dogs who received rewards at random, the researchers said. Hardly surprising, the dogs were most excited for food.
Many people do not spend nearly enough time training their dogs properly, and that is unfortunate for both dog and owner. Proper training will not just make life easier for you, but it will give your dog the sense that he is doing a good job. Even simple commands, like 'come', 'sit', and 'fetch', will give your dog a sense of accomplishment and purpose.
Of course, not everyone has the time or skills to train a dog themselves. If you are looking for a well respected and proven dog trainer in the Long Island area, contact Canine Commander today.