Back to School at Canine Commander – Dog Training 101
The summer months can bring out the inner-puppy in every dog. Did you lose your standing as pack leader? Did you ever have it to begin with? If your best bud snuck out when you were not looking or ate your favorite pair of shoes, you are probably more than ready for back to school Dog Training 101 at Canine Commander. A well-trained dog is a happy dog, and this is what Canine Commander is all about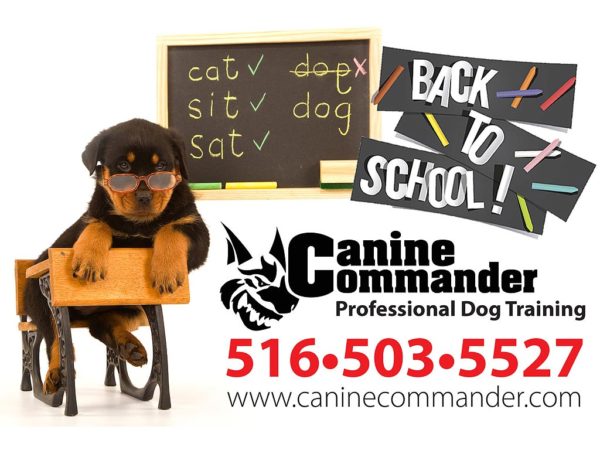 Training is one of the most important things you can do for your dog. Whether you have a senior couch potato or a young pup bouncing off the walls, obedience training is crucial for a well-rounded and happy dog.
No matter your dog's age, history, or breed, he must respect that you are the boss. He should listen to your commands, know what they mean, and respond appropriately. Not only will this generate a strong bond between the two of you, it will also keep him safe.
At Canine Commander, we know that taking the time to train your dog properly creates a strong bond of trust and security, which is vital for every pet owner. We will teach you how to communicate in your dog's language because we know how important it is that your dog feels safe with you and looks up to you with respect.
Obedience Training with Canine Good Citizen (CGC) Program- 5 classes Plus CGC Test
The CGC program teaches all-around responsible pet ownership. The program emphasizes good dog manners in all environments.
Classes are held on Saturdays, September 23rd through October 21st, with CGC test on October 28th
Classes start at 10:15 AM
Total cost- $185
The CBC test is a 2-part class where the first 5 classes are basic obedience. All dogs who pass the CGC may receive a certificate from the American Kennel Club.
Basic Obedience Class
Classes are on Saturdays, September 23rd through October 21st
Classes start at 11:00 AM
Total cost- $160
We teach your dog leash skills as well as the commands Come, Sit, Down, Stay, Look and Leave It using hand signals and voice.
If you have a problem dog, no worries, we cover common behavior issues as well.
All classes are held at:
62 Farmers Ave, Bethpage, NY 11714
Canine Commander also offers advanced obedience classes, teaching off-lead training and on-site private obedience lessons
Once you arrive, please use the side entrance on the left and ring the bell that is on the gate.
If you are a brand-new customer or a board and train client who needs a refresher course, please call 516-503-5527 or contact Canine Commander for Dog Training 101 today.