Spring Into Summer With 2016 Spring Dog Training Classes
Dogs are pack animals, they want and need to belong to a pack. Since many people only have one canine member of their family, it is important to learn how to communicate effectively with that four-legged member and help them feel welcome in our pack. That is where 2016 Spring Dog Training Classes come in.  You will learn how to communicate clearly and persuasively with your dog, they will learn to trust and respect you as the pack leader, and you both will learn how to interact socially with other human/dog packs.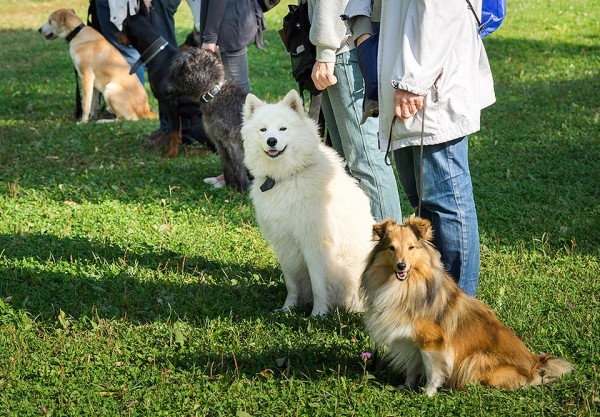 If you have a new puppy in your family, Puppy Kindergarten will get you off to a great start together. You will learn basic care of your new family member and some manners (i.e. basic obedience) that will make your new friend easier to live with. Your puppy will also have plenty of puppy playtime – an important step in the essential socialization process. Proper socialization will set your puppy up to be a calm, friendly dog that can accept new people, new dogs, and new situations with aplomb.
Puppy Kindergarten classes take place on Saturdays at 10:15 AM, beginning on April 9th and going through April 30th. The cost of the four classes is just $130.
Since it is never too late to teach an old dog new tricks, sign your adult dog up for Basic Obedience. We will teach you those all-important communication skills, so you and your dog are speaking the same language. We will also help you become the pack leader your pet needs and craves to feel safe and comfortable. Your dog will love having someone to look up to and obey – strengthening your bonds in the process. We can also help you redirect your dog's inappropriate, and frustrating, behaviors into something more acceptable. Like puppies, your beloved older pet will also enjoy some great socialization during group classes.
Saturday classes are held at 11 AM from April 9th through May 7th; the five classes cost $160.
Wednesday evening classes are held at 7 PM from April 13th through May 11th. These five classes also cost $160.
Contact Canine Commander at 516-503-5527 today to reserve your spot.
All classes are held at 62 Farmers Ave, Bethpage, NY 11714