Tips for Traveling With Your Dog
Are you having trouble traveling with your dog? There is a reason the saying 'a dog is a man's best friend' has never been disputed. Our four-legged friends easily wiggle their way into our hearts with excitement, tail wags, and kisses. They quickly become friend and family, and they are certainly not someone we want to leave behind when we go on vacation.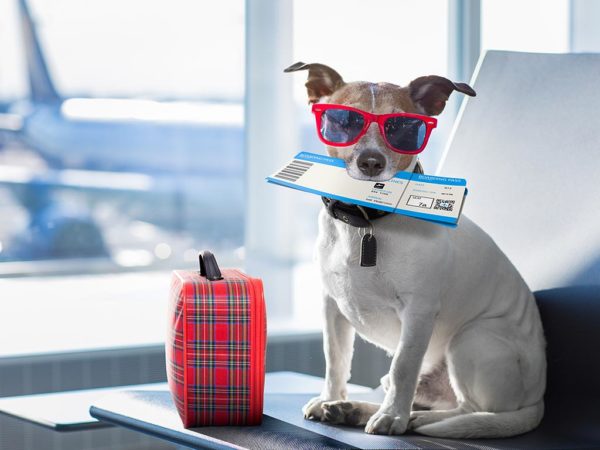 Taking your dog on a road trip is not a bad idea, but it is not as easy as opening the door, letting your dog hop in, and taking off on some grand adventure. To have the best possible trip with your furry travel buddy, you have to do some planning.
Make Sure Your Dog is Comfortable in Cars
Driving down the road to the park is one thing, but a long distance car ride is an entirely different experience, especially for dogs. A few weeks before your scheduled trip, start testing the waters. Load your dog in the car in the manner they will travel during the trip, whether that is with a harness or in a crate. Make each drive a little longer and travel down a few winding roads to see how your dog handles it all. This is a perfect way not only to test your dog's comfortability with the trip, but it also allows your dog to comfortably prepare for the journey without rushing him into a new experience. Your pup will be much calmer if he is given the time to adjust at his own speed.
Choose the Right Vehicle
If you are going to be on the road for an extended period of time, you want to ensure that your pup is safe and secure. Your dog needs enough room to stretch out and be comfortable. A space that is too tight or crowded will only increase your dog's unease and anxiety. And, you never want to place your dog in the way of an airbag. Airbags are designed to protect humans, but they are devastating to animals. So, do not place your dog in the passenger seat, no matter how much he may desire that spot. Remember that your dog's happiness is important, but not at the cost of his own safety. So, choose a vehicle with ample space and the perfect place for your furry friend to relax.
Plan Breaks
Your dog is not as accustomed to long distances in cars as people are. So, make sure you take that into consideration when you plan your stops. Not only is your dog's bladder smaller than yours, but it is important to allow your pup to stretch his legs and use up some energy so he does not become restless. A short walk outside of the car will be good for both of you.
Use the Right Equipment
This is also important for keeping your dog safe during your journey. You should never let your dogs roam loose in the vehicle. Not only can they become a distraction for you, but if you are in an accident or have to stop suddenly, they can be seriously injured or killed. Allowing your dog to ride free of any restraints might seem kind, but in reality, you are only endangering your pet. The safest way to ride with a dog is to use a harness or crate. You can easily find a harness that attaches to a car's LATCH child car seat anchors at most pet stores. Whatever you do, do not settle for tying your dog's leash to a seat belt. It is not as safe as an actual harness. A crate is another great option, especially in a larger car. It gives your dog his own space and ensures he remains safe. To ensure that your dog is not nervous inside of his crate, make sure that you never use the crate as a punishment, and always make sure his time spent inside it is pleasant. Fill it with his favorite blankets and maybe even a toy that is safe for him to have without constant supervision. It is also recommended that you take your dog's collar off before putting him in the crate to prevent it from getting caught in the door or windows.
Pack The Essentials
You should pack plenty of your dog's food and fresh water for the journey. Your dog is already facing changes as he travels down the road in your car, you do not want to stress him out further by changing up his eating schedule. Your dog has a sensitive stomach and can get overheated quickly, so make sure you have plenty of fresh (preferably bottled) water available.
Traveling with your dog can be an exciting adventure and great bonding experience when it is done correctly. Taking into consideration his safety and comfort levels during the trip will go a long way in making the experience one you can both enjoy. For more information on traveling with your dog and how training sessions can help your pup's behavior during long trips, please contact Canine Commander today.