Schedule Winter Dog Training Classes 2016
Whether you have a puppy or an older dog, you keep meaning to enroll your best friend in winter dog training classes. With winter storms and colder weather, you might have decided to put off these classes until spring when you can get out and practice what you are learning. However, there are good reasons to start winter dog training classes now.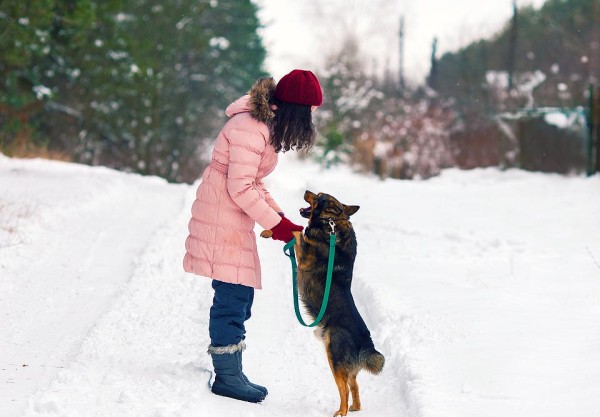 Canine Bonding
Taking a dog training class together will strengthen the bond between you and your dog! As you work closely with your pet to reach a common goal, you will feel your dog grow closer to you and depend on you more for care, positive encouragement, and a shared accomplishment. In these winter dog training classes, you will learn how to communicate with your pup in his or her language, making it easier for the two of you to understand each other. This translates to your day-to-day life, and you do not want to wait a couple of more months to start forming this bond.
Become a Pack Leader
Dogs are pack animals and look to their leader for many reasons. When you take a dog-training course, you learn how to be the pack leader, so that your dog follows your command. These classes help you feel empowered to take on this new role in the relationship. Once you gain respect as pack leader, your dog will look to you for guidance and the next command while feeling safer and more comfortable in your presence.
Canine Socialization
Meeting new dogs and people can be daunting for puppies and younger dogs. It can be hard socializing your dog when you have a busy schedule. In a dog training class, your pet will meet other dogs and their humans along with the class trainers. This will help tremendously in socializing them for new encounters when spring comes, and the two of you can go to the park together.
At Canine Commander, we are registering for winter dog training classes right now at our Bethpage location.
Puppy Kindergarten – 4 classes $130 Saturdays: February 6th – February 27th 10:15 AM
Basic Obedience – 5 classes $160 Saturdays: February 6th – March 5th 11 AM 12 Noon Wednesdays: February 10th – March 9th 7 PM
Contact Canine Commander with any questions or to reserve your spot, 516-503-5527. Classes are held at 62 Farmers Ave, Bethpage, NY 11714.