Six Helpful Tips for Road Tripping With Your Dog
Road tripping with your dog? Road trips are a great way to add adventure to your summer. And they are made even better by the company of your furry friend. Traveling with a dog across state lines might sound daunting, but if you take the proper steps to ensure your pup is safe and comfortable, it can be an exciting experience for both of you. Here is a list of tips to help make your cross country journey a doggylicious one.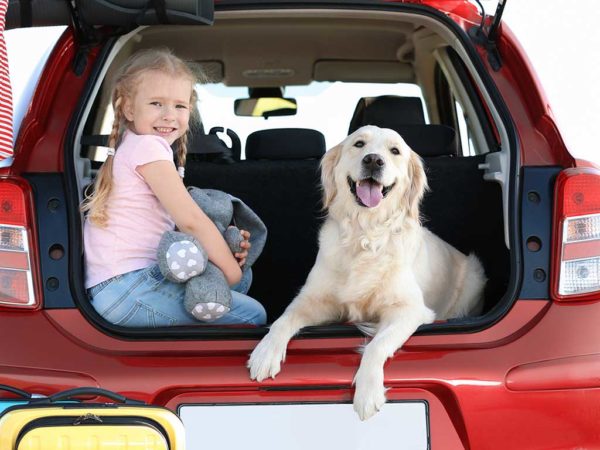 Too Much Freedom is a Bad Thing
You might think giving your dog freedom to roam will help make the drive easier on your pup, but it is not a safe way to travel. Your dog should be secured in a crate or by a harness. You wear your seat belt for safety, and your pup should too. If you have to slam on the brakes suddenly, you do not want your dog to bounce around the back seat unprotected. They also prevent you from being distracted by your dog roaming around, trying to get your attention.
Front Seat is for Two Legs, Not Four
Your dog should never ride in the front seat, not even if it is strapped in a harness or secured inside a crate. The front seat is a danger to your dog as much as it is a danger to an infant. The airbag that is designed to protect a grown man or woman was not created for your pup and will certainly do more damage than good. Do not keep them in the very back of the car either. In case of an accident, the backseat is the safest place for your dog.
Travel Companion
If you can, bring a friend along to help you care for the dog along the journey. Switch between driving and caring for your dog to keep each of you alert and keep your dog from growing distressed. If you are traveling solo, make sure to schedule plenty of stops to check on your dog's mental and physical condition and allow them to stretch their legs, explore all the new sights and smells, and play with you for a few minutes. This is also a good time to give them fresh water and let them relieve themselves.
Leave No Man (Dog) Behind
Never leave your dog in the car. There are plenty of places that will allow you to bring your dog inside when you need to grab a bite to eat, get a cup of coffee, or simply stretch your legs. Heat is a serious hazard when it comes to pets and cars. What might feel like just a few minutes, a quick run in and out, could lead to irreversible damage for your furry friend. If it is 72 degrees outside, the temperature inside your car can heat up to 116 degrees within the hour. On an 85 degree day, even with the windows open, your car can reach temperatures over 100 degrees in just 10 minutes. It is not worth the risk. So, if you are traveling solo and need to stop, make sure you take your four-legged companion with you.
Comforts of Home
Some dogs love to travel, and others get nervous. It is important to make sure your dog is as comfortable as possible when traveling. So, do a few test runs, thirty minute drives, to see if they do better in a harness or a crate and give your dog time to adjust to being in the car with you. Lay down a blanket or two that smell like you or your home, and bring along their favorite toy. These small comforts will help them understand that everything is okay in their new surroundings.
Dogs love to stick their heads out the window, but it can actually be dangerous to let them do this. They could get particles of debris or dust in their eyes or get sick by having cold air forced into their lungs. This is especially important for dogs with large, bulging eyes. But any and all dogs should be discouraged from hanging their heads from the window to get a better look at their surroundings. That is what pit stops are for.
For more information, or for training lessons to help your dog behave and stay calm during long-distance trips, please contact Canine Commander today. We look forward to meeting you and your fur baby soon!