Pup Tearing Up Paper? Plainview Dog Training Can Help
It is a situation that just about everyone who owns a dog has dreaded, coming home to rooms of shredded paper. The professionals at Canine Commander Plainview dog training knows, dogs are infamously good at destroying large amounts of paper in a short time. Most of the time, they are likely to do this while you are away from home. However, there is also a chance that they will do it when you are right in front of them. The reasons dogs shred paper vary depending on the individual pup. Even worse, it is possible for a dog to develop this habit out of the blue suddenly. Thankfully, there are ways you can manage this situation and avoid serious waste in your home.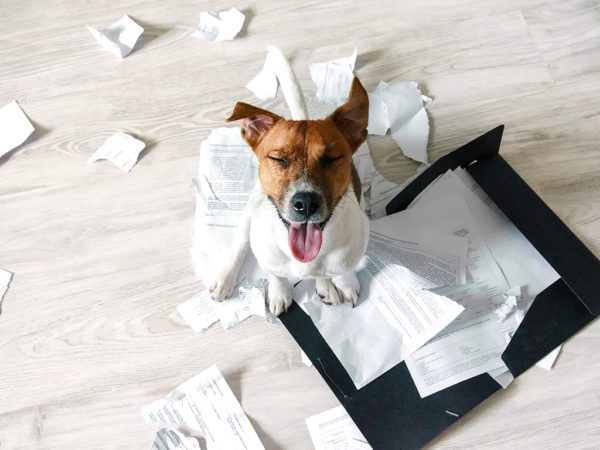 Boredom Is Often A Major Culprit
Dogs are highly intelligent and need stimulation to avoid serious boredom. If you do not spend the time to play with them, walk them, or get them out of the house, you may be generating an excessive amount of boredom in your poor pup. As a result, they may look to other ways of entertaining themselves.
Tearing paper is a popular activity because it is simple and provides your pup with a lot of material to tear. They feel a great amount of satisfaction ripping their teeth into your paper and ripping it to shreds. Even if this activity does not have an express purpose, it is something that helps break apart their boredom when their owner is not playing with them.
Separation Anxiety May Also Be To Blame
If your canine buddy is ripping apart your paper while you are not home, there is a chance that they are suffering from severe separation anxiety. This problem often occurs in dogs because they are pack animals. Most experience great joy when interacting with loved ones and feel more comfortable.
When that separation anxiety hits, they are going to feel very upset. Some may turn to destruction to vent their fear. And since paper is one of the easiest things for a dog to destroy, they are likely to focus on it. Do not forget that your pup is very smart and can identify sources of paper. As a result, they may end up shredding paper towels, napkins, and even important contracts.
How High-Quality Training Can Fix This Problem
Dog owners who can not shake their dog's bad habits need to turn to professional trainers right away. These skilled experts know how to identify symptoms of boredom and separation anxiety in a dog. Then, they can find steps to alleviate the influences of these dangers. For example, they can teach your dog to handle being separated from you for extended periods.
Even better, they will work with you to teach you methods for helping your dog feel more comfortable at home without you. They can also teach you how to avoid canine boredom by entertaining your best friend as much as possible. These steps will vary in nature depending on the trainer. However, they will create an effective system for managing anxiety and boredom that will keep your pup from tearing paper.
Get The Help You Need
As you can see, it is possible to manage this situation and keep your pup from destroying paper in your home. These steps are particularly necessary if your store a significant amount of necessary paperwork in your home and find that your clever buddy is skilled at identifying and destroying them.
So if you think that your pup could benefit from this kind of dog training, contact Canine Command plainview dog training today. Our training professionals are skilled at working with multiple breeds and can make sure that they avoid destroying any of your important papers.