Six Ways to Prepare for RV Camping with Dogs (Part 2)
Welcome back to the second half of our two-part article on everything you and your dog need to for successfully camping with dogs, complete with socialization and adventurous hiking. Last time in Six Ways to Prepare for RV Camping with Dogs (Part 1) we talked about finding campsites that are welcoming to your dog, being prepared for doggy first aid just in case of porcupines or other mishaps, and how important it is to have your dog trained to respond to specific camp commands. Today, let's pick back up at a different kind of training for camping with dogs.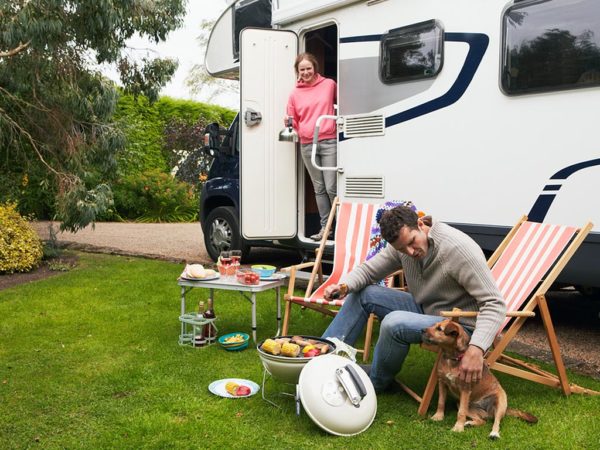 Snake Training
Poisonous snakes out in the wild are one of the biggest real dangers to your dog while hiking together. Your dog can usually endure, if not happily, the pain of a bee sting or a thorn, but they are generally small. Snake venom, on the other hand, is a serious problem. Depending on the breed and age, some venom is deadly or severely effective with only a few drops. To this end, you want to have access to a 24-hour vet nearby and train your dog carefully to avoid snakes.
Many owners do snake training with a professional and a caged or muzzled snake along with light discouraging shocks every time their dog gets near the snake. This is a quick way to teach your dog that snakes are dangerous without them going through a 'first bite' learning process. It is well worth considering finding a snake training class for your dog before the two of you start camping.
Microchip Identification
In the great outdoors, you simply can't trust the integrity of any external tags for your dog. No matter how sturdy your collar and tags are, there are always edge cases in which the collar gets caught on something and safety-releases. If you want to make sure your dog comes home with you as happy as the two of you set out, you first need to ensure that there is a microchip set into your pet. These digital collars hold all the contact information that the people who find your dog will need to bring your companion back to you. If somehow you and your dog get separated and their collar comes loose, a microchip will ensure that whoever finds them, whether the park rangers, other campers, or even a shelter somewhat far away, will be able to call so the two of you can reunite.
Stranger Protocols
The final thing to prepare for when camping with dogs is the possibility of meeting strangers while they're unleashed or in close proximity. Because of how popular great pet-friendly camping sites are, you are very likely to not only meet other people but other dogs as well. Your companions need to be able to handle these meetings with grace and aplomb so a little bit of manners training along with some strategic use of control commands should ensure that there are no embarrassing Marmaduke-like situations in which someone hits the mud. A dog can be a great protective asset but you want them to be friendly to people who will probably be your friend.
With dog-friendly campsites in every state, there's almost no limit to where you can go and what you can do when RV camping with your furry companion. If this is your first shared camping trip, then you'll need to train yourself to be a good commanding owner as well. While you're out on the trails together, make sure to keep both you and your pets well-hydrated and eating regularly no matter how exciting things get.
If you spend several days on the road transiting between campsites, don't forget to take exercise breaks and give your companions a chance to run around and take care of necessary business. With careful planning and good training, you and your dogs should have a wonderful time in the great outdoors. For more information about how to prepare for camping with dogs or to schedule professional dog training sessions, please contact Canine Commander today.