Looking for a Puppy? Our Pre-Purchase Puppy Consultation Can Help
You are ready to invite a four-legged friend into your family and experience all of the joy a new puppy can bring. The only thing left to decide is – which puppy? Choosing the right dog for your family is an important decision. After all, he will hopefully be a member of the family for at least the next decade. Our pre-purchase puppy consultation is a great way to start.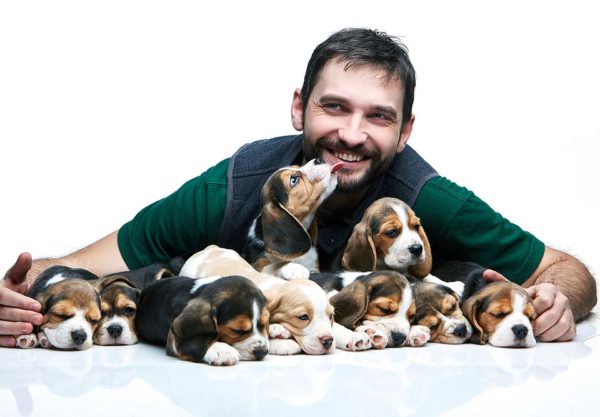 We have developed a comprehensive lifestyle survey that is designed to find the right match for your family. Our evaluators will assess your home and yard, along with your activity level, available time, and expectations for your new family member. That information can help narrow down breed choices to those that are the most compatible with your family. Then they will thoroughly address your questions and concerns to ensure that you are comfortable with your decision. Of course, the choice of puppy is yours. Our assessment is just meant to give you the guidance and tools you need to make the best choice for your family. After all, the right dog will be a joy for years to come.
Choosing a puppy that is a good match for your personality, lifestyle, and home environment will ensure a bond of love that lasts. Unfortunately, many puppies are chosen because of their pleading puppy dog eyes, an appealing body shape or coat type, pretty color or unusual markings. Sometimes those matches work out, but many times they do not. Remember, what appeals to your eyes and hearts now is not necessarily what will fit with your lifestyle later!
Every irresistible puppy will eventually outgrow that puppy cuteness and become a dog. Will you be able to live with that adult dog? He will have a personality, breed-specific traits, instincts, activity level, quirks, and foibles that are uniquely his own. The sad fact is that many of the young adult dogs in shelters end up there because their families could not cope with the adult version of that cute little puppy.
Canadian dog behaviorist Anne Jackson suggests choosing a dog breed by looking at adults rather than puppies. All puppies are adorable – and too easy to take home on the spur of the moment! Instead, research what kind of dog that cute little ball of fluff will all too soon become. Contact Canine Commander for more information on our pre-purchase puppy consultation and how we can help you find a puppy your family can live with, and enjoy, for many years to come.