Newborn Dog Training Keeps Everyone Safe
Newborn dog training and orientation will help keep both your dog and baby safe. Some dogs make amazing companions for babies and toddlers. Dogs with a peaceful spirit and a strong protective instinct often understand quickly that a human baby needs to care much like a puppy. A dog can even become highly attuned to a baby's happiness and distress, alerting parents to problems or soothing a baby when it is stressed. So if you're an expecting parent or planning for a baby, it makes perfect sense to plan for a dog as well.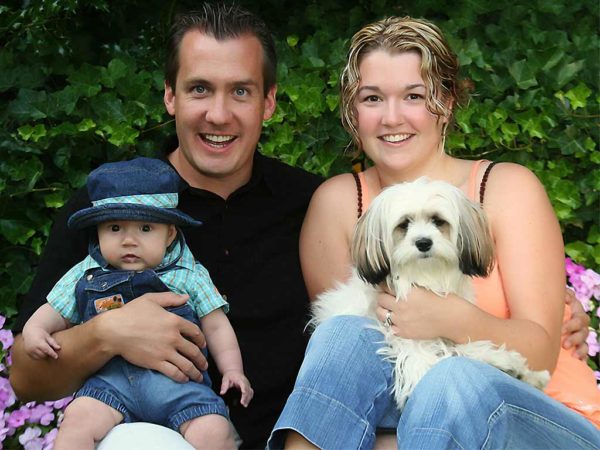 What Makes a Perfect Dog for Babies
Ideally, you want a fully or mostly grown dog who is well-trained before the baby arrives. This way, the dog will be calm, settled, and you'll know they will be safe around the baby. And that they understand house rules, even in times of stress.
Many people will tell you that breed matters. It's true that some breeds are more likely to be gentle or protective than others. But a mutt with a calm attitude can also be the perfect guardian dog. Look for dogs who appear intelligent, aware of their surroundings and responsive to human emotions. They should be good at being calm and also alert every time someone enters the room.
The third and final piece is expert training. Any dog can be trained to stay away from the baby. But if you want a companion dog, your pooch needs to understand how to be both supportive and gentle with an infant, which will require training.
Training a Guardian Dog
The good news is that you don't have to be an expert dog trainer yourself to prepare your family pet to become your baby's guardian. Instead, you can work with a professional Long Island dog trainer who will help you build a training plan and learn the right behaviors and commands along with your dog.
The trainer will walk you through not only the commands your dog will need but how they should treat the baby as well. It's important to teach dogs to treat human babies more gently than they would a puppy and to respect their space when the baby is upset. Your dog will also need special training not to bark or bite if the baby pulls on an ear or tail.
Introducing Your Baby
Finally, you will need to prepare your home and your dog for the arrival of the baby. This should be done carefully and in stages. The Dog Whisperer suggests training your dog that the nursery is off-limits at first, then slowly allowing them to enter and do specific actions. This will help your dog to be alert and careful in the baby's space.
After the baby is born, introduce their smell to the dog first by permitting them to sniff the newborn in a controlled environment. At first, carefully arrange for them to lie near one another. Eventually, your dog will grow comfortable. When your baby starts to reach and grab, teach them to be considerate of the dog's face, ears, and tail. And, of course, supervise all the time between your baby and your dog.
Were you deeply charmed by the dog Nana in Peter Pan, who took such good care of the children? Did you have a guardian dog as a young child who served as a pillow and protector in one? For more information on dog training contact Canine Commander.