Blossom the Neglected Dog 'Blossoms' After Her First Bath
Blossom the chocolate lab was living on the porch of an abandoned house in Oklahoma. She was shivering, hungry, and terrified of any human contact. A concerned neighbor named Erika repeatedly tried to catch the neglected dog. She could not get near enough to catch Blossom, so she left food and water for her every day. One day Erika snapped a photo of the heartbroken dog leaning pathetically against the wall of the porch and posted it online. That was the day Blossom's life changed forever. A rescue team from Woodward, Oklahoma saw the photo and made it their goal to bring this neglected dog to safety.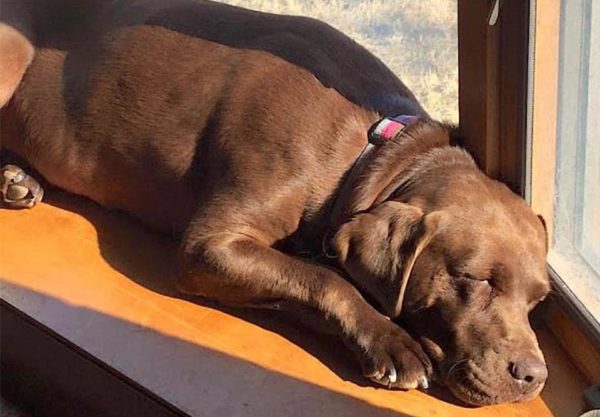 They managed to catch Blossom and bring her back to their WOOF Pet Rescue. Within just 24 hours of being in loving hands, Blossom started to open up. That is when she received her first bath – probably the first one in her whole previously miserable life. And Blossom bloomed! This terrified, horribly neglected dog learned that humans could be loving and kind. That first photo of the heartbroken dog touched many people's hearts and after less than a month, Blossom received the best news ever.
Gary and Sarah were on that porch and helped rescue Blossom – and they never forgot about her. When she was ready for her forever home, they opened their's to her. Blossom had already captured their hearts weeks earlier. Now, instead of cowering on a porch, she dozes in the sun on her window seat. Blossom has come home.
If you have added a rescue dog like Blossom to your home and would like help with their training, contact Canine Commander. Our experienced trainers can help your new pet overcome past trauma and 'bloom' just like Blossom did.