Smart Homes and Long Island Dog Training can Enhance Retirement
Did you know that smart homes and long island dog training can enhance your retirement? The smart home trend has quickly become one of the most popular and convenient ways to upgrade a home in the last several decades, and some retirees are already riding the cutting edge of technology. Retirement is all about finding ways to relax efficiently. Here in Long Island, the availability of services like grocery delivery and smart home technology fit perfectly into a comfortable city retirement lifestyle. Smart home gadgets are, in fact, changing the landscape for retirees, making it easier to take care of household tasks, keep in touch, and even care for your pets.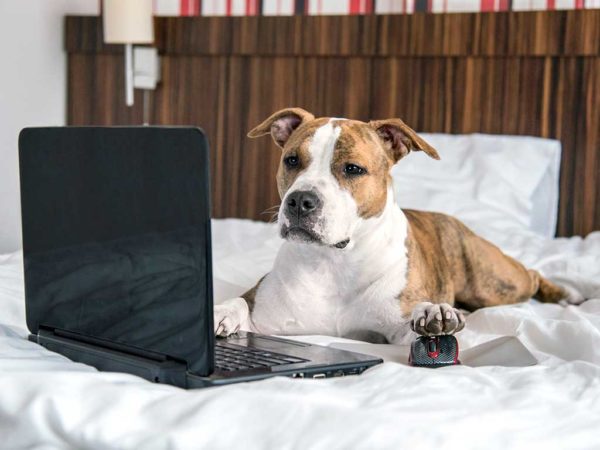 When combined with skilled Long Island dog training, you and your pet can enjoy a cutting-edge retirement lifestyle by interacting smartly with your smart-home gadgets. Today, we're here to share a few fun pet-friendly smart home devices and how, with training, you cand your dog can really enjoy a smart-retirement together.
Interactive Cameras and Treat Dispenser
When you're running errands or out visiting friends, your pets still need entertainment and encouragement, and you may just have a few moments to give them that. There are several models of interactive pet cameras and treat dispensers. These are devices that hang on a wall and allow you to look in on your pets while you're out and about. You can talk to them through the device, ask them to do tricks, and reward them by dispensing treats that are loaded up ahead of time. Some even come with laser pointers for cat and silly dog amusement.
With Long Island dog training, your dog can be trained to understand the interactive treat dispenser and even interact with you when you're away from home. Without acting up or freaking out at the new crazy technology hung on your wall.
Location Tracking Collar
If you're worried about your dog running off or want to check up on them when they're out with a walking service, a smart collar can allow you to track location easily. Some even include a camera so you can delight in finding out the secret life of your cat or what your dog goes to sniff when they're out adventuring. A well-trained dog can be trusted even with young and optimistic dog walkers to enjoy a leisurely stroll around the block or a gallop around the nearest park while you enjoy tracking their movements or even riding along with a doggy smart camera.
Automatic Feeder
Pet ownership in retirement is a fantastic idea. However, stooping down to fill their pet bowl constantly can get pretty creaky after a while. With a smart pet feeder, you only need to refill the reservoir once a week, and the gadget will make sure your pooch is fed the right amount every day. By training your dog to trust the automatic feeder, you can fine-tune your pet's diet and make sure that they always have a bowl of food even when you're not up to stooping to refill their bowl.
Self-Directed Toys
Finally, and here's a really fun one for both in the home and when you're away, there are a variety of balls and bones that will roll themselves based on controls through your mobile device. This can encourage your pets to run around, allow you to play without bending or throwing, and even let you and your friends play with an at-home pet while you're visiting. Pets who can learn to play happily with a self-directed smart toy can stay in much better shape, getting plenty of exercises even if their owner is required and content to kick back with your feet up most of the time.
All of these devices and more can connect to a smart home hub and enhance the fun of the relationship with your pet. Working with a Long Island dog trainer, you can help your puppy learn to be happy sharing a cutting-edge retirement lifestyle in your NYC apartment. From trusting the food dispenser to frolicking with robot-controlled pet toys, you'll have a wonderful time combining smart home gadgets, dog ownership, and good training with your retirement. Contact Canine Commander today to consult on your Long Island dog training needs.