Lab Results Are In. We Are the Most Popular Dogs.
Celebrities from Prince Charles to Steve Martin own Labrador Retrievers, and if you do not own one, your neighbor probably does. Labs are the most popular dogs in 47 out of the 50 states. In the three states where they are not top dogs, they are either second or third.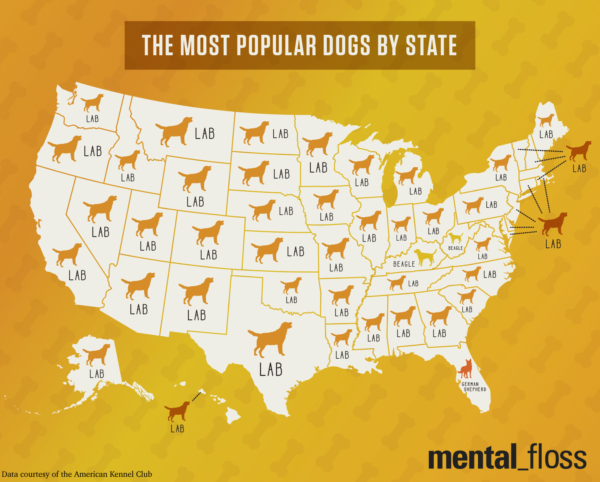 Labrador Retrievers are the most popular dogs for good reasons.
They are friendly dogs who get along well with other animals, children, and just about anyone they meet. This makes them excellent family pets.
Labrador Retrievers are intelligent and eager to please which makes them a top choice as a service dog.
Wide Open Spaces names Labrador Retrievers as the number one hunting dog. Not a surprise as they were bred in Atlantic Canada as a fishing and retrieving dog.
The coat of a lab is either golden, chocolate or black. They are a medium to large dog that weighs between 50 and 80 pounds so they may not fit in a small home or apartment. They will be happy in an apartment as long as they get enough exercise, and they need exercise. A young Labrador Retriever will need more than a walk around the block. The affable, outgoing personality of Labrador Retrievers does not make them good guard dogs.
Today there are two main bloodlines of Labradors. One is the hunting line, and the other is the show or pet line. Both lines love to fetch or retrieve and swim. Their double coats are almost waterproof, and their toes are webbed.
Whichever bloodline you choose the key to both you and your dog being happy is a well-trained dog. While Labrador Retrievers are intelligent and eager to please, even the most popular dogs need to be trained. The right training is crucial. Canine Commander offers obedience training for your dog and so much more. We offer a pre-puppy review to help you choose the right puppy for you and your family. Our puppy program helps you build a solid foundation of proper training. We also offer behavior modification for dogs who behavioral issues can arise from misunderstandings, environmental pressures, negative experiences or the poor training and care of a previous owner. When it is time to get a dog, it is time to contact Canine Commander.