Fun Ways to Exercise With Your Dog
Do you exercise with your dog? We all know that exercise is good for us. It provides us with numerous health benefits, and it keeps us in shape. But, exercise is just as important for our furry friends. There is a saying that goes, "A tired dog is an obedient dog." A lot of your dog's "bad behavior" might just be pent up energy. And the perfect way to help Fido let some of that energy out in non-destructive ways is to exercise together.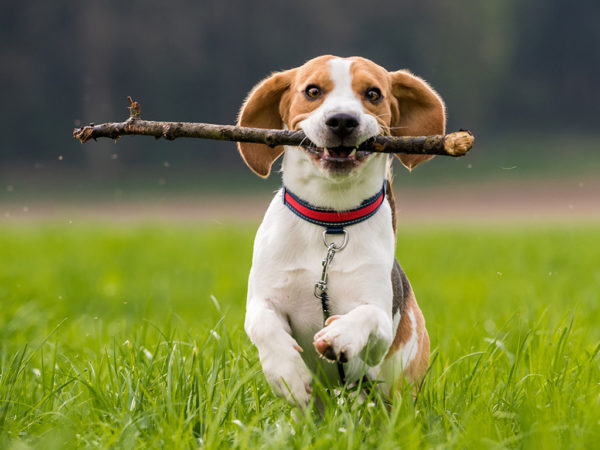 Play Fetch
Dogs love to play fetch. It is a tried and true form of exercise, plus it is fun for your pup. Even if you only have 10-15 minutes to spare, that is plenty of time to play a quick game of fetch with a ball or a disk. If your dog is not great at understanding the game of fetch, an easy way to teach him is to throw the ball and begin to chase it yourself. This will cause your dog to run the same direction instinctively. As your dog enjoys a fun game of chase, he will eventually catch on and start chasing the ball instead of you. A little encouragement to bring the ball back to you, and voila, you have taught your pup a new trick. This technique is also a good way for you to get a bit of exercise at the same time. It is a win-win for you both.
Take a Hike
Hiking is a great way to get some fresh air and explore your beautiful surroundings together. It is important to note that if your dog has breathing issues or a short nose, hiking might not be the best fit for him. You might consider a short walk instead. Otherwise, hiking is a great way to spend quality time exercising together. If you want to keep your dog from becoming overheated, try to schedule the hike early in the morning or close to sunset during the summer months.
Dog Park
Dog parks are so much fun.  They are a great way to exercise with your dog and give your pup a chance to run wild. Plus, the socialization will be good for them.  They might even make a few friends. And it is a great way for you to meet other puppy parents and possibly set up a fun playdate for the fur babies.
Tug of War
Grab a rope and engage in a little fun competition with your furry friend. Be careful not to pull too hard. Remember, you are pulling with your hands, but your dog is pulling with his teeth. This game is best played with dogs that do not get highly aggressive. So, make sure there is a level of trust between the two of you before you start this activity.
It is important to take time to give your dog proper exercise and attention. Even if you are tired after a long day of work, remember that your dog has been eagerly awaiting your return. So, make a little time each day to do a fun, healthy activity with your pup. Your fur baby will be healthier and happier for it, and it is a great way for the two of you to bond even deeper.
If your pup is too high-energy and destructive, or you would just like him to be a little more obedient, please contact Canine Commander today. We love animals and take great pride in caring for your pup as if they were our own. We offer several different classes, including dog obedience training, puppy training, behavior modification and problem-solving, and even provide board and train programs. We look forward to helping you exercise with your dog.