Dogs and Kids, A Good Combination?
Dogs and kids go together like peanut butter and jelly, or do they? Assuming the kids are interested in having a dog, the answer depends on many factors. Including the breed, the desired commitment and how much training is needed. Canine Commander knows that dogs and kids can make a great combination if profesional dog training is done right.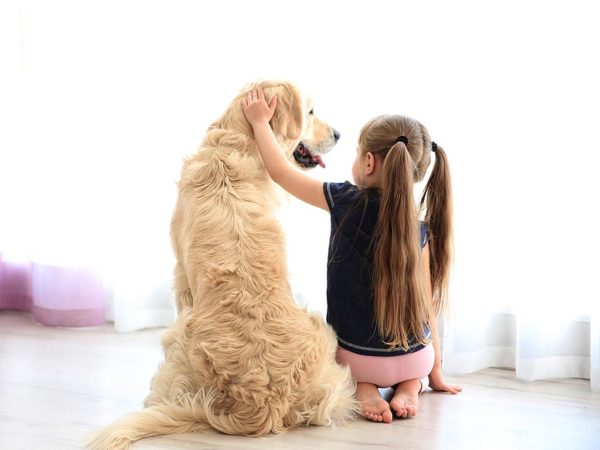 Choosing the right dog
Not every dog is a good match for kids. Surprisingly, many small dogs are not! Although their size is more in scale with kids than say, a Golden Retriever, a small dog is often fearful around children because of its small size. A larger dog is sturdier and more able to withstand the attention of rougher play.
Of course, that exuberance is why a dog often needs the parents to step in and restore order. Even a dog as large and sturdy as a St. Bernard or Newfoundland needs protection from kids who think tails are handy for steering the dog or eyes and ears are fun to explore with fingers!
Puppy or adult dog?
If you are considering a puppy, a pre-puppy consultation with an expert can help you find the right puppy for your family, home, and lifestyle. Your new puppy will be with you for many years, so it is essential that you choose your new pet wisely. They will also need proper socialization and training to become the enjoyable companion you want for your family. These 10 tips for new puppy owners will help you and your puppy get off to a great start together!
If you are adopting an adult dog, they may come with 'issues' as a result of a previous life. Behavior modification training by an expert can solve many of the issues or problems that may follow your dog to her new home.
Exercise and training
As parents and dog owners, you will have other responsibilities to consider before taking the plunge. Do you have room for a dog? If you do not have a securely fenced yard, are you willing to walk a dog several times a day? Even if you do have a fenced yard, you will still need to walk the dog at least several times a week.
Your new pet will need professional dog training to make her a pleasant companion on those walks. An older child can undoubtedly help with dog training, however you will have to supervise. Arranging for professional dog training can help your dog become a fun, enjoyable companion that even a young child can safely walk (with adult supervision, of course).
Besides learning to walk quietly on a leash, you will also want your pet to learn to come, sit, lie down, stay, and go to her bed. Dogs learn best through frequent, short lessons coupled with positive reinforcement, so this is a great activity to practice along with your kids. Kids will need help with the commands but they excel at the positive reinforcement part.
Providing a healthy diet
Your dog will also need regular, healthy meals and a limited number of healthy snacks. Remember to deduct the training snacks from your pet's daily ration to avoid an overweight pet. It is a good idea to measure out a day's worth of treats into a small container every morning. Have everyone get treats out of that container only and when it is empty everyone will know the dog has had all of her treats for the day.
Children can certainly help with their pet's meals, but even older children can get busy and forget. As a parent, you will need to supervise. Someone also needs to make sure the dog always has fresh water. And, no, the toilet bowl does not count.
Additional care and expenses
She will need regular bathing and brushing; some breeds need additional professional grooming on a regular basis. That is an extra expense for which you will need to budget. You will also need to trim her nails regularly. And, of course, she will need regular care from a veterinarian, including vaccinations. That is another expense for which to plan.
You will also need to provide your new dog with food and water dishes, a comfortable bed, crate (essential for puppies!), a collar and leash, microchip with ID tag, toys, and chews.
If you think your family is ready to welcome a dog, contact Canine Commander. From helping you choose a new puppy to correcting an older dog's problem behaviors, we have you covered!