How Dog Training Can Prepare You Dog Travel for the Holidays
Is your dog prepared for dog travel during the holidays? During the holiday season, millions of people travel to family and friends. While you could leave your dog with a friend or board them with a service, many loving pet owners feel that their dog is part of the family and deserves to be a part of their holiday visiting tradition. You know for sure that your canine companion would love the enthusiastic company. They would delight in helping with dinner scraps, playing with the children, and generally being a part of the family. The trick is getting your dog safely to where your family is for the Holidays.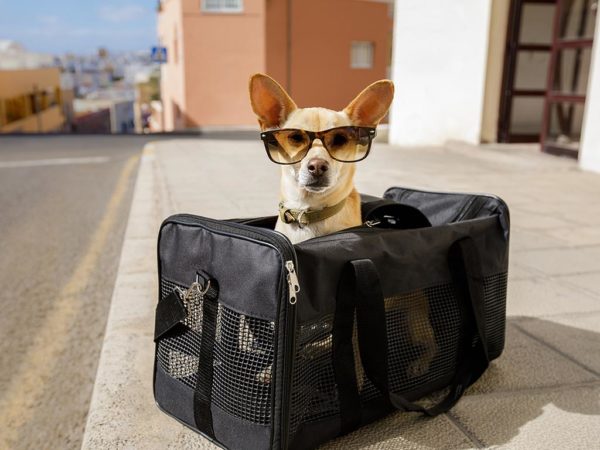 Whether this involves a long car trip or a plane ride, staying with family or a pet-friendly hotel, training in the autumn can make sure that your dog is ready for travel when it's time to travel for your winter Holiday vacation.
Crate Training
Traveling with your dog, in the car or on a plane, will likely mean creating them for the duration of the trip. Driving in the car, you will be able to talk to your pet, walk them during breaks, and comfort them during the journey. They also should be in a carrier while you are driving so as not to create a risk.
Airplane trips are even more demanding, as your pet will need to remain in their crate in the cargo hold for many hours at a time until you can retrieve them at your destination. In both situations, your dog will need to be familiar with their crate, and comfortable spending extended hours holding still and being quiet. Professional Long Island dog training can help you prepare your dog for the road ahead so they will be both relaxed and well-behaved during your travels.
Behavior Training
When you arrive, naturally you want your furry friend to make a good impression with your relatives. They should refrain from jumping, barking, or aggressive sniffing to avoid upsetting anyone on their first meeting. The more well-behaved your dog can be, the more welcome they will be to loaf with you on the couch, play with your younger relatives, and come back next year as a guest.
Even if your dog is relatively well-trained now, a few sessions with a professional trainer can hone their good behavior into an artform. Your dog will charm relatives if they can politely sniff hands, shake upon introduction, beg politely for scraps, and go for peaceful walks with new people.
Child Familiarization
Dealing with children is a challenge that most young dog owners don't realize could be a potential problem when their dog comes home with them for the Holidays. But if your dog has never spent any amount of time with children since puppyhood, they may not understand the concept of small humans who are fun to play with but need delicate treatment.
Your trainer can help you arrange to familiarize your dog with children in a safe environment before you introduce them to your nieces and nephews for the first time. This way, your dog will know what to expect and how to play gently with younger family members.
Pet-to-Pet Manners
Finally, it's important to remember that your dog probably won't be the only family pet joining the Holiday festivities. There may already be pets in the homes you're visiting, and other relatives may bring their pets along for an extended vacation. Whether you expect your pooch to socialize with other dogs, early training can make sure this connection is a friendly one.
Mainly if your relatives feel protective of their pets, your dog will benefit from knowing the basics of pet-to-pet manners before you depart on your travels.
Making plans to bring your dog with you this Holiday season can be deeply rewarding. Not only do you get to spend the Holidays with your favorite furry companion, but your dog will also get to meet and socialize with your relatives and their pets. The best way to make this an enjoyable and relaxing experience for everyone is to attend a few Long Island dog training sessions before the big trip, so your dog is ready for crate travel, polite introductions, and gentle play with the other pets and children they'll meet during the festivities.
For more information on how to schedule holiday dog travel training for your favorite pet, contact Canine Commander today.