Dog Riding in a Truck Bed, Is It Safe?
We have all see dong in a truck bed from time to time. But it is but it is never recommended to have your dog riding in a truck bed. You drive down the road, and sometimes the highway when you pass a truck with a big, friendly dog standing in the bed. You may know people who transport their beloved pets this way. Some folks swear that Fido will be just fine back there or that he loves it. But is it safe? Common sense might suggest it is probably not the best idea to transport your dog in the truck bed. Today, we thought we would dig in to learn what hazards come with driving with a dog in the truck bed. Here is a stat that might alarm you.
Estimates suggest that almost 100,000 dogs are fatally injured each year by jumping or falling from a truck bed.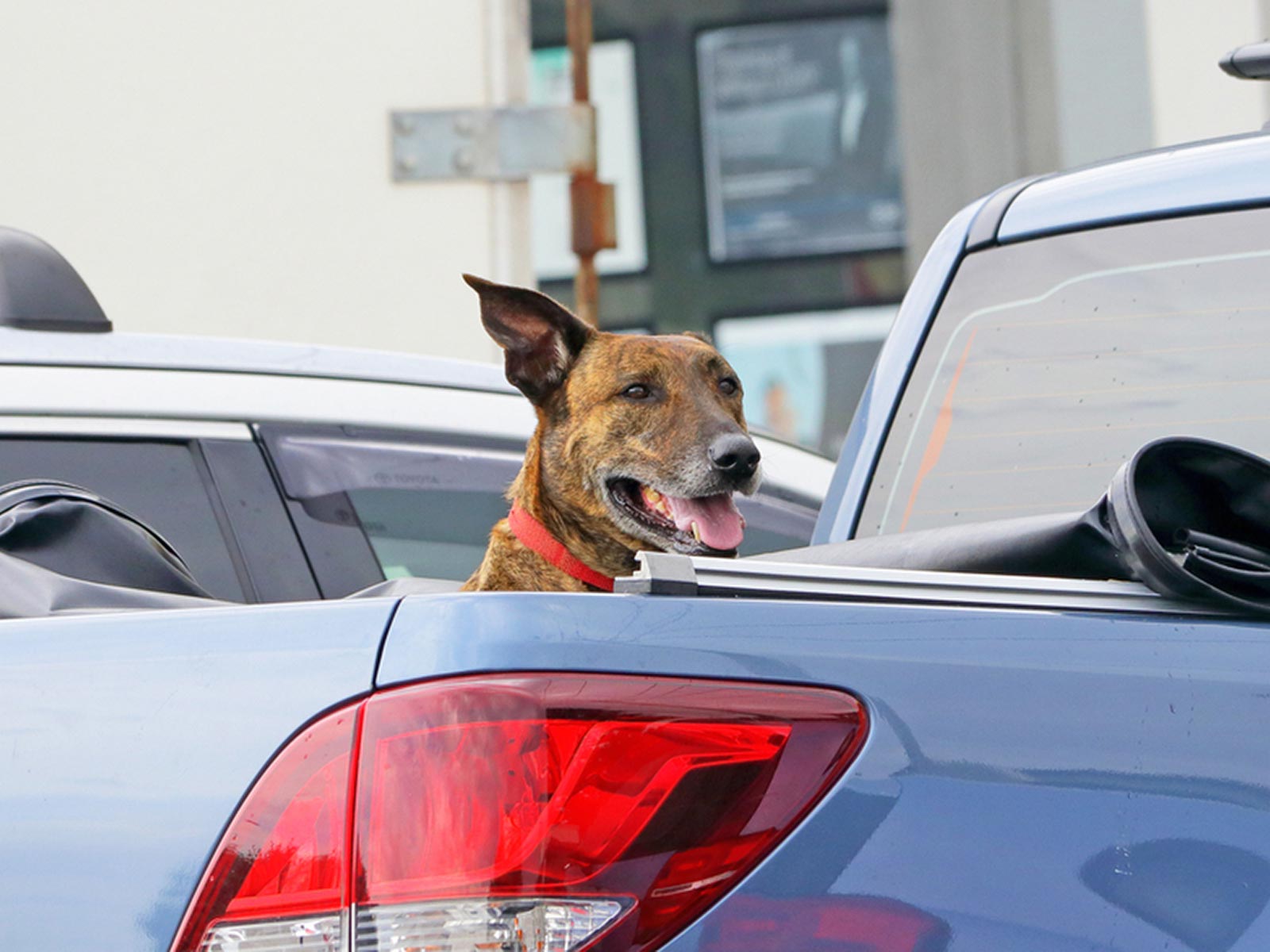 Dogs in Danger
An untethered pup in the bed of the truck can present some real safety issues for him. One sharp turn or an abrupt stop can launch the pet out of the truck entirely. Even if the dog does not fly out, jostling in the bed of a truck or losing footing can mean the poor dear falls or collapses against the bed floor. A sudden panic situation can cause a dog to jump willingly from the back as well. Canine injuries, in any case, can be significant and include broken bones and torn muscles. In the worst-case scenarios, a dog can be flung from the bed, experience severe road rash or contusions, which may lead to the death of the dog.
Motorists in Danger
Having a dog in the back of the truck can present serious hazards to other motorists as well. Should the beloved pet be ejected, where he lands can directly cause accidents with other motorists? Drivers, no matter how skilled they are behind the wheel, in the moment of crisis, will usually try to avoid hitting the dog, much like people who experience car accidents due to avoiding deer in the road. Swerving to miss a dog can lead to serious collisions with other vehicles.
Costly Risks
A dog riding in the back of a truck is a financial risk as well. Potential injuries the pet might sustain in an accident can mean hefty vet bills. Damages caused to others because an unsecured pet catapulted from the back can equate to severe insurance costs in damages to property or people. In some states, transporting a dog in the bed of a truck is illegal. Getting caught with Fido in the back can mean costly fines.
Tethering May Not Be Helpful
Even a tied or tethered dog is at risk. Abrupt stops or traffic accidents can inadvertently put the pet at risk of strangulation. Some people assume that by tying the dog down, they will prevent the pet from jumping. It still, however, can create a dangerous situation.
There Safest Method of Hauling Your Dog in the Back
If leaving your dog at home or putting him in the cab with you is not an option, you do have some safe alternatives to hauling the dog in the back. Using sturdy, purpose-built crate that can be secured to the truck bed is your safest bet. Some retailers offer great options for truck bed transportation, which also provide meshing for airflow and covers for sun and heat protection.
Keeping your pup safe is a top priority. They may love to hang their tongue in the wind and even keep their stance, but it is never recommended to have your dog riding in a truck bed. If you plan to hit the road with them, be safe. Invest in propert canine transport. It'll be a sound investment and help ensure your beloved pooch is protected. For more behavioral tips and training options to improve your dog's behavior, contact Canine Commander today.