Training Your Dog to Move Between Homes with Dog Move Training
Planning a move and need dog move training? Moving can cause stress and behavior problems in even the most well-behaved dogs merely because they have no way to understand what is going happening. If you're worried that your dog is not ready for a move, professional dog move training can go a long way. Learn more about how to properly acclimate your dog to their new surroundings.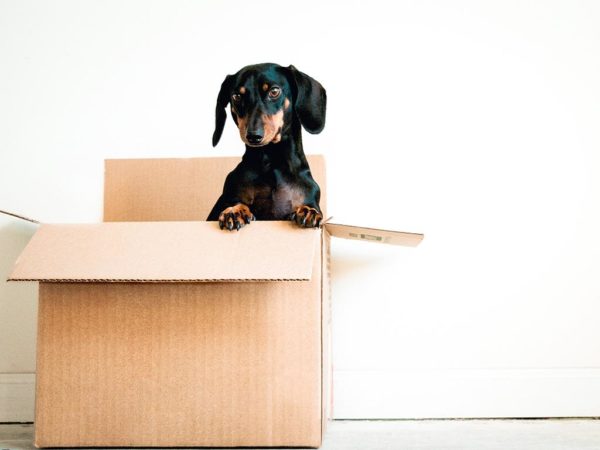 Leash Training and Runaways
One of the most significant risks for moving with your dog is a runaway. Doors are left open while you move boxes and getting into and out of vehicles is always a careful procedure for Long Island dog owners. The last thing you want is for your precious pet to escape in the new neighborhood, where they don't yet know how to find their way home by smell and familiar landmarks.
Leash and runaway training can work wonders for easing your mind and helping your dog stay nearby even if they see an opportunity to run. If your dog can be trained to stick close to you without a leash, this is ideal. But even a few sessions of leash training can help your dog stay calm while tethered during the move and to walk with you safely when changing locations.
Respecting The Moving Process
Depending on the personality and behavior of your dog, packing up boxes can become the source of infinite chaos. Your dog may want to sniff every new box at best and dig or chew through or even mark them at worst. Some dogs are deeply disturbed by the process of packing up all the items that are familiar with into boxes, and some love the idea of having a new set of 'platforms' to play on.
Whatever the situation, a successful move will require your dog to be at peace with your boxes and not to chew them to shreds before you have a chance actually to move and unpack them again. Professional training can familiarize your dog with the concept of boxes and how to behave around them so that no unnecessary destruction or stress becomes a problem.
Manners During Car Rides
No matter how carefully you plan your move with your dog, eventually they will need actually to relocate from one home to the next. And this will require a car ride. While life as a Long Island dog can be busy, your pet may not be thoroughly acquainted with your ideal car riding procedure. Whether you want your dog to ride in a carrier, kennel, or enjoy sticking their head out the window without scratching up the seats, professional dog training can help you teach them the best way to do things.
Combined with leash training, car ride training can help your dog to both look forward to car rides and behave themselves when it's time to take that all-important trip. Then not to run off when you first let them loose.
Making a Good Impression with Neighbors
When you reach the new home, naturally you want your dog to make a good impression with the neighbors. Long Islanders usually live relatively close together in condos and apartments. Even single-family homes share proximity, so you will want to successfully introduce yourself and your dog to neighbors no matter where the two of you wind up.
Whether your dog tends to be shy or overly enthusiastic in their greeting of strangers, training can help. When your dog knows how to sniff politely, shake, and do a few amusing tricks you are sure to charm your neighbors into loving the pooch almost as much as you do.
Adapting to the New Home
Finally, it's not uncommon for dogs to feel nervous and uncomfortable during the first few weeks in a new home. There may also be new house rules that will help protect your security deposit or respect the lifestyles of your nearby neighbors. If your dog is slow to adapt or needs a little help with their manners in the new home, a Long Island dog trainer can visit you and help your dog adjust to the new location.
If you are planning a move or have already discovered that your dog is not well prepared for a move that is currently ongoing, a few sessions with a professional Long Island dog trainer could be the key to all your troubles. When your dog knows how to behave themselves and get acquainted with a new environment, both you and they will have a much more enjoyable time. For more dog training tips or to schedule your first session with your dog, contact Canine Commander today!