Do You Find That Your Dog Destroys Furniture or Shoes?
Do you often come home to find that your dog destroys furniture or shoes? If it's happened more times than you can count, then you have an issue. You come home to find your furniture (or your shoes, or even your clothes) chewed and ruined. It can make you angry at your dog. It can be expensive and time-consuming to fix. It can be heart-breaking to have to choose between your dog and loved items. Don't worry. Chewing comes naturally to dogs, of course. But you never have to settle for destructive chewing.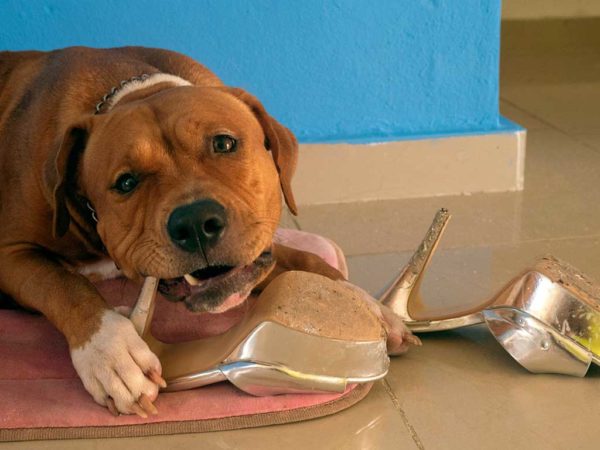 It helps to understand why dogs may be chewing your furniture or shoes. First, it's a natural act for a dog to chew. They understand the world through sensory input, and both taste and smell are very involved in chewing. They may be particularly tempted to chew material that seems like something they might find in nature, such as wood or leather. That's why the wooden legs of furniture or leather shoes are often gnawed on.
Second, dogs need a certain amount of exercise. If they aren't getting enough, they will try multiple activities to get it. For them, attacking and chewing a sofa and pulling out all the stuffing is exercise. Lack of sufficient exercise can also make dogs anxious. Chewing on household items can be a response to the anxiety and stress of not getting enough exercise.
Third, dogs can get bored, just like people can. If they have no stimulation all day, they will try to stimulate themselves. Again, attacking and chewing can be a response to a lack of stimulation.
Once you know why you're coming home to a ruined sofa or chairs, you can see where the solutions lie. Feed the chewing impulse with toys. Rubber bones can be your dog's friend. They come in various shapes and flavors. Make sure bones, and other chew toys are always available.
Make sure your dog is getting sufficient exercise. A 10-minute game of fetch in the backyard on weekends may not be enough, especially if you have a large breed. Many dogs will not be so prone to chew if you take them for a run or walk every night. Large breeds may need several hours of exercise per day. Don't feel guilty if you don't have time to exercise your dog enough. You can engage a dog walker who is experienced in how much exercise is needed.
There are several solutions to the boredom front. Games also help to stimulate your dog. Fetch is popular with dogs for a reason! It combines the stimulation of finding something along with exercise. If playing with another friendly dog is an option, that's a great way for dogs to be stimulated. If you have access to a beach or lakeside that allows dogs, jumping in and swimming is play to them, as well as exercise. It can be very stimulating if they don't do it often.
In terms of stimulation, be sure to vary your route when you walk or run with your dog. They like to see, experience, and smell different environments. In fact, dogs are often made very happen if your walk includes a sensory tour! Allow them plenty of time to stop and smell different elements of the walk. Don't forget that dogs make sense of their world through their sense of smell. They are very curious about how things smell and taste.
Finally, if your dog has been chewing destructively, obedience classes can help them break the habit. Contact Canine Commander to discuss dog training and obedience.