4 Basic Dog Commands Every Dog Owner Should Know
Do you know the four basic dog commands? A dog trainer is a tremendous asset for dog owners who are dealing with troubled canines, puppies who are just starting to learn new things, and any dog who needs a little extra work. However, a dog trainer won't be around 24-7, so it's essential that every dog owner is equipped with a few commands they can do with their canine. Let's look at the four basic dog commands you should know and to which your dog should appropriately respond.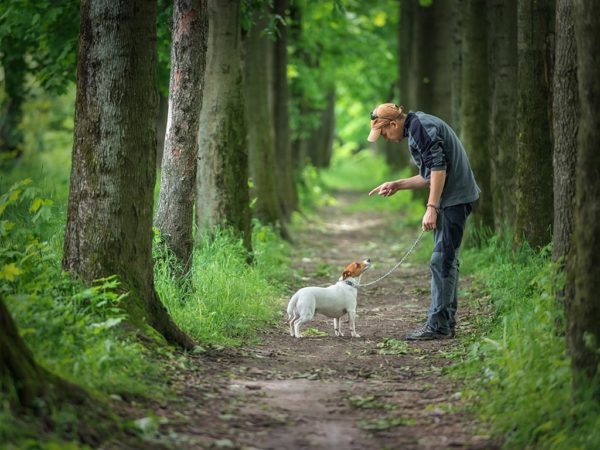 Dog Command: Come
When you tell your dog to come, they should understand that they are immediately supposed to go toward you and stay there. This command can be used in a variety of settings. For example, you would use this if your dog was in a public place without a leash or if they were running around your backyard and needed to come back inside. You can even use this command if you already have your dog collared and on a leash. In instances where you might be walking your dog and pass a more aggressive canine, you'll want to gently tug on the leash and say, "come" to keep your dog away from trouble. Once your dog obeys orders, remember to reward them for his good behavior with a pat on the head or even a treat once in a while.
Dog Command: Sit
This is one of the very first commands for you and your dog to master and generally it is one of the easiest to accomplish. When training your dog to sit, start out by rewarding them with treats. Hold the treat in front of them so they can see it and command them to sit. Once they obey, feed them the treat. You'll want to repeat this command a few times before moving on to anything else. Additionally, it's a good idea to use the sit command sporadically in order to remind them of it (ie. before a walk, before dinner, etc.).
Dog Command: Stay
Only after your dogs has completely mastered the sit command should you graduate to the stay command. After all, the stay command would be ineffective if your dog didn't understand what you meant by sit. To begin with this one, first, tell your dog to sit, then stay. Place the palm of your hand in front of them while you say it. Then, gingerly take a few steps backward while keeping your hand in place. Once your dog understands to stay while you are walking away, you can reward them for his obedience (treats and affection always work well). Increase the number of steps you take backward and make sure your dog stays until you tell them otherwise. Keep in mind that this is often one of the more challenging commands for dogs, especially young puppies who are still trying to grasp the concept of self-control. Remain patient with your dog and don't get discouraged if they don't understand this command as soon as you'd like them to.
Dog Command: Down
Like stay, down is one of the more difficult commands. This should be used when your dog is overly excited about something, like the presence of children or new people. It should also be used for dogs who are anxious or nervous about something. To master the down command, hold a treat in front of your dog and slowly place it near the ground. This should lead your dog to lower his body and eventually end up belly-down on the floor. Give them the treat as soon as they obey. You'll want to do this command several times in a row and then continue to do so every day until you are confident they understand it.
Need help training your dog and with basic dog commands? Contact Canine Commander today!