How Much Canine Exercise Does Your Dog Need?
Ever wonder how much canine exercise your pet needs? If your dog is misbehaving or being destructive, it could be a result of not enough exercise, or of boredom which can result from not having the mental stimulation that walking or running (and being able to sniff around and explore) can give. In addition to good behavior, of course, exercise also has many great benefits for dogs. It improves their overall health. It can keep them from diseases such as arthritis and help prevent canine obesity as well.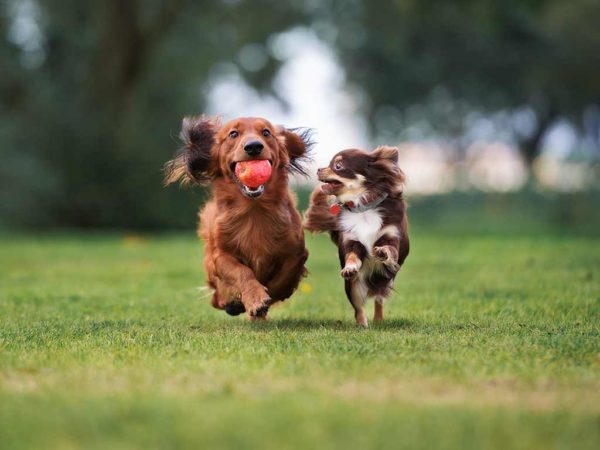 The length of exercise varies by breed
It may surprise you to learn that dogs need from 1/2 hour to 2 hours of exercise each day. Roughly 39% of owners, though, exercise their dogs only about 10 minutes each day. Dogs need to do more than have a bathroom break to have sufficient exercise.
As a general rule of thumb, the amount depends on the breed and the size. Tiny dogs, such as pugs, need the lower end of the scale, at around half an hour. Larger dogs, such as labs and border collies, can benefit from the longer end of the scale, at around 2 hours.
You also need to factor in a dog's leg length. Dachshunds may be medium in size, but they aren't going to appreciate a several-mile run: it's just too much for their legs to do. The nose position also needs to be factored in. Boxers may not be able to run as much as a collie, because of their nostril position.
Puppies and older dogs shouldn't be exercised as much as dogs in their prime. Puppies' bones are still growing. Older dogs may have arthritis or other conditions that make it hard to exercise. Exercise them enough to keep them healthy, but don't fatigue them.
Finally, pay attention to the weather. Even the hardiest dog may not benefit from being out in temperatures over 100 degrees or less than 0. If it would be hard for a human to exercise in the weather without collapsing from heat exhaustion or freezing, don't make your dog do it.
Calibrate whether your dog has exercised enough by noting how he or she seems to feel afterward. If they plop down as though they're exhausted, scale the exercise back. If they are still jumping around excitedly, they could do with more. Remember to consult your vet about your particular breed of dog for more precise guidance.
Be sure to leave enough time for mental stimulation
If you walk or run with your dog, be sure to leave enough time for mental stimulation. Dogs that are not stimulated enough will get bored or frustrated, and that can lead to misbehavior as well.
What do we mean by mental stimulation? Well, dogs find sniffing trees and bushes very stimulating. They also like to explore. Just running off-leash along a path that hasn't been on before is some definition of doggie paradise. Leave them to it! Seriously, if at all possible, part of their exercise should be done in off-leash areas, just because it allows them the freedom to explore.
Socialization with other dogs is also a vital source of stimulation. A dog park with friendly dogs could be a great destination.
Because dogs like to explore, it's also important to vary your route. Yes, going up and down the streets in your neighborhood will give a dog enough exercise. But it's likely to become very known, and thus somewhat dull. Change up the places you go, and your dog will thank you.
Does your pet need some help with canine exercise? We can help. Contact Canine Commander today.