Canine Environmental Socialization, Successfully Taking Your Dog out in Public
Do you know that canine environmental socialization classes can help keep your pet safe when in public? Having a pet who is attentive to your commands is an essential part of being a dog owner. We all love taking our pets to new places. Exploring hiking trails or sitting in a quiet cafe with our dog is one of the joys of being a dog owner. However, we often spend most of our time training our pups indoors! How can we expect Fido to listen when we have them in a place that is new to them? How do we get our pets to understand our commands no matter what distractions they are facing?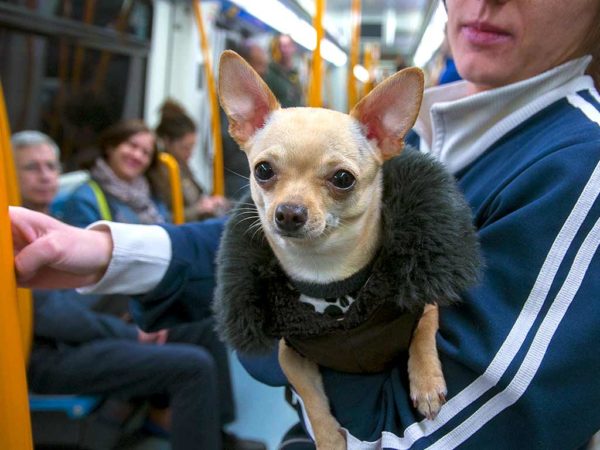 It is crucial when you are working with your pet that you also expose your pet to people, places, and activities that they will experience in their day to day lives. Here are some tips to help your pet practice what he's learned when you take him out and about:
Be consistent: Remember to continue to use the techniques and best practices you've learned from your trainer when you are out and about. We can often become frustrated when our dogs become distracted. By having a poor attitude ourselves we are contributing to our dog's misbehaviors. No matter what, remember to be consistent. If you've asked your dog to exhibit a certain behavior, sit, insist that he sit before you continue. Consistency is key.
Make your outings short: You can't expect perfection in every situation with your pet, but if your outing is short, there is less time for mistakes and a better chance of being able to praise your dog for his good behavior. Get in a few great behaviors and then allow your pet some downtime as a reward for listening.
Take them out often: Visit pet-friendly businesses and popular walking trails. The more often you're out and the more places you visit the more likely your dog will become comfortable with the idea of having distractions. The more often you give your pet the opportunity to practice his skills, the more they will become second nature to your dog. If what you are asking him is consistent, no matter what your location, your dog will start to listen more readily.
Special rewards: Consider having a more enticing reward for your dog when you are in a public location. If your dog is food motivated and you often train with cheese, perhaps having a more high-value reward when you are out will be beneficial for his good behavior.
Be attentive: Remember to reward your dog for the small things he does right. Did he look at you when you called his name? Tell him what a good boy he is!
If you need some help learning the basics to control your animal or if Fido needs a refresher course to increase his listening skills Canine Commander can help you. We teach all the basic obedience commands including come, sit, stay and down. These commands are essential if you're trying to get your pet to focus on you when you take him out into public locations.
Once your pet has mastered the basics, we also offer off-leash training which will help you and your pet to get the most enjoyment out of each other. Off-leash training opens up a whole new world for dogs and their owners because suddenly your dog has gained independence and you have gained trust in your pet. Dog parks become a safer, happier playground for you when your dog has these skills.
If you want to train your dog to be well socialized and reliable you should consider signing him up for Canine Commander's environmental socialization classes. This training will provide the skills both you and your dog need to enjoy all the public places you dream of going to. Canine environmental socialization includes appropriate behavior at restaurants and public buildings as well as how to overcome distractions while in public. Contact Canine Commander today.