Behavioral Training For Adopted Dogs
Canine Commander offers behavioral training for adopted dogs. If you are trying to decide if dog adoption is the right choice for you, you might be struggling with one of the main concerns that arise when faced with this decision. And that is, of course, that the dog might have behavioral issues. You do not know the previous owners. You do not know if they treated the dog well or what kind of environment they in which they were kept. You have no knowledge of the dog's previous training, or even if the dog has had any training at all.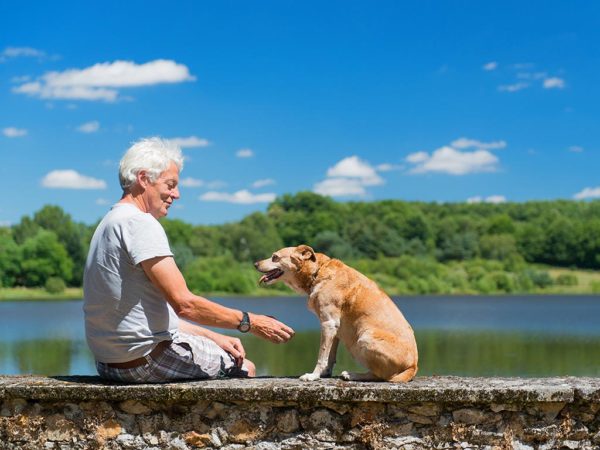 The saying 'you can't teach an old dog new tricks' is a common one, but it may be damaging in situations like this. Adopting a dog is a huge responsibility, and no one wants to invite a dog into their lives only to realize they are in over their heads, and that there is nothing they can do about it. But, you can rest assured in the knowledge that, while that saying is famous, it is not true. With the proper training an old dog can indeed learn new tricks.
No Bad Dogs
There are no bad dogs, only bad behavior. Dogs are born with an abundance of love in their hearts and a need to please. They are caring and comforting creatures who long to make their owners smile. It is lack of training, a negative environment, lack of attention from those they crave it from the most, or negative experiences that create bad behavior. And, underneath it all, that sweet, caring dog is still there hoping you can see the good in his heart.
It Is Not Too Late
Even if you adopt a dog that is a few years into adulthood, it is not too late to help him overcome his bad behavior and become a well-behaved pet and great addition to your family. Dogs, along with love and care, desire structure. They may fight it at first, but dogs need guidance and structure in their lives. Proper training gives them that and helps them see the error of their ways and the appropriate behavior that should replace those adverse actions. And since dogs crave stability, love, and guidance throughout their lives, an adult dog will respond to it even after years of going without.
Proper Training
Loving your dog and calming asking him to do the right thing is not enough when it comes to a dog that has spent his life forming bad habits. If your dog is displaying separation anxiety, excessive barking, fear, biting or any other behavior traits you would like to fix, you need professional training. Behavior modification requires the proper program and the correct steps, to work. Your dog needs professional guidance from someone who has been adequately trained to deal with these problems correctly.
Adoption Saves Lives
If you are considering adopting a dog, remember that adoption saves lives. All dogs deserve that which they crave most: someone to love and love them in return. Shelter dogs will never experience that joy unless someone walks into their lives and lets them into their hearts. Do not make behavior issues stand in the way of a great decision. The love you will receive, and the joy from watching a dog that had no hope finally find a home is lovely.
Behavioral Training For Adopted Dogs
At Canine Commander you will find licensed and experienced professionals, many of whom were trained by the US government and the NYPD police force, who know precisely how behavior modification works They offer many different types of training so you can choose the program that works best for you and your new four-legged friend. It's important to trust your dog with professionals that not only know dogs but love them as well. And that's what you will find at Canine Commander. If you are about to adopt a dog or have recently welcomed one into your home that has behavioral issues, please contact Canine Commander to learn more about their training programs.