Learn What Apartment Dogs Love About Long Island Living
Some dogs love living in an apartment. One could even call them apartment dogs. Everyone has this idea that apartment living can be hard on a pooch, but just take a look at any dog as it's walking down the hallway, galloping through the agility park, or meeting other apartment dogs. That huge doggy grin on their faces is not faked. There's no denying when a dog is having a great time, and many dogs have a total blast living in apartment buildings with their favorite humans, which is good news for dog-lovers in Long Island.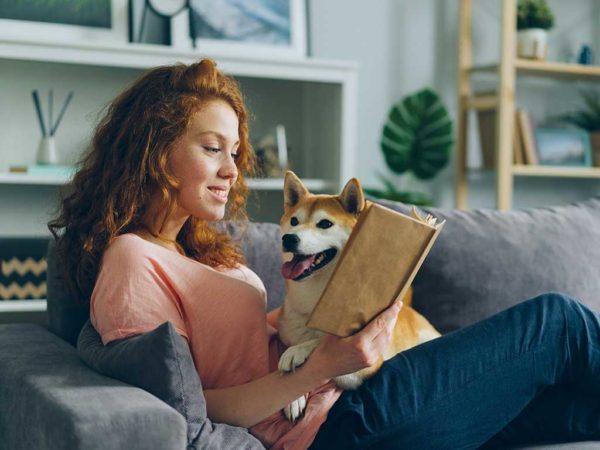 Many dogs are great apartment companions. Just like you, they love the feeling of living up close to other people in the building community. They love saying hello to neighbors in the hall, to basking in the courtyard sunlight, and enjoying the rich landscape of smells from your balcony.
Today, we're diving right into what makes an apartment great for a dog from your dog's perspective. What exactly do dogs love most about living in apartment buildings?
Living Among Other Dogs
In a pet-friendly apartment community, the chances are that your dog isn't the only pooch in the building. Dogs love to meet one another, even to just smell another dog who lives in the same building and has passed through the same places. They love to sniff at neighbor's doors, the stairwells and elevators, and especially the outdoor places where other dogs take their daily walks.
Dogs are pack creatures, and even if they're not always running with a dozen other dogs, they delight in knowing that there are lots of other dogs nearby. You may even notice on your first visit with Fido that your dog gets excited in the areas where other apartment pets frequently pass through.
Constantly Making New Friends
Of course, apartment dogs don't just get to smell one another. They get to make new friends and playmates as well. With a community of pet owners, there's a good chance your time for walkies and exercise won't be spent alone. You'll meet other owners in the building's dog agility park, and in the hallways and elevators along the way. You'll meet them walking and jogging the blocks around your building. But best of all, your dog will meet them, too.
Dogs love to meet new people, especially if they also have dogs. In fact, whether or not you meet a dog owner or just a friendly neighbor who will give your puppy a pat, your dog will be delighted. Dogs in apartment buildings never run out of new friends and, eventually, old friends they're always happy to see.
Buddy Workouts with Favorite Owners
Apartment dogs often get more quality time with their owners than suburban dogs with yards to run around in. Because you know your dog relies on you for exercise, you take them on walks, go running, or visit the agility park at least twice a day. Not only does your dog appreciate the chance to run and play, but they also appreciate the special pet-owner bonding time with you.
If you go running with your dog, you and the pooch learn each other's paces and how to enjoy longer and longer runs together. If you go walking, you learn your favorite routes and may even share the occasional snack from a street vendor on the way through. And at the agility park, you and your dog learn to play together in a way that suburban dogs rarely experience.
Play Dates With Other Pets
Then, of course, there are special playdates. Apartment pet owners often team up to head down to the agility park or around the block together for the benefit of the dogs and the enjoyment of each other's company. Not only is this a great way for people to make friends, but dogs see it as a play date with their favorite canine buddies.
Playdates are something that every dog loves as they make special friends with the neighbor dogs they see most often. In fact, some owner friendships are sparked by how much your dogs enjoy playing with each other.
Obstacle Courses in the Bark Park
Dogs love to play. They like to run and leap, fetch, and tug. And your apartment isn't exactly a great place for your dog to get all that rambunctious play energy out, but an agility park is perfect! Dog owners in a pet-friendly apartment can often enjoy more than just an open patch of grass to throw tennis balls. Doggy obstacle courses pose a fantastic new way for dogs to play and train with their owners and other community dogs.
Sometimes called a dog park, a bark park, or an agility park, many apartments that welcome dogs make sure that the furry residents have somewhere to get all that playful energy out. And dogs love to play in these parks. By throwing balls and running around together, your dog can get more exercise in fifteen minutes than a two-hour leisurely walk around the block.
A City of Smells
Another thing dogs love about living in an apartment is the tableau of smells. Most dogs don't see too well, but they can smell more keenly than the best 20-20 vision. A dog can smell another dog, a squirrel, or a tempting hotdog stand miles away if the wind is right. And in an upper apartment in a big city, the wind is always right.
Just leaving an apartment window open can reveal a whole incredible world of smells for your dog. This is why many apartment dogs love hanging out on the balcony, so they can smell the thousands of people, dogs, cats, restaurants, parks, and other things happening below.
Having the Training to Handle it All
Finally, most of the happiest apartment dogs are happy because they are pros at living in an apartment. Just like you, dogs need a little time to learn how to act right on the elevator, how to greet neighbors in the hall politely, and how to behave when they smell something awesome just down the sidewalk. With the right city-dog training, your dog will walk with the confidence of knowing exactly what to do in all social and spacial situations.
Dogs love to know what to do. When to sit quietly and receive head-pats and when to sniff around and meet new people on their own. How to befriend the neighbors and neighbor-children in your building and how to get well-behaved play dates with their new neighbor-dogs. Let us help you and your dog put the cherry on top of your awesome shared apartment life with the training your dog needs to rock their big-city home. Contact Canine Commander today for more info on Long Island dog training that you and your dog can both benefit from.