British Award Prestigious Medal to American Marine Dog
Lucca served valiantly as a Marine dog in both Iraq and Afghanistan for more than six years. This remarkable dog completed over 400 missions and saved an untold number of allied lives in the process. Reportedly, no one was ever injured on her patrols. As a Specialized Search Dog, Lucca worked off-leash and sometimes at a considerable distance from her handler. She became so renowned that platoons going out on patrol often requested her by name.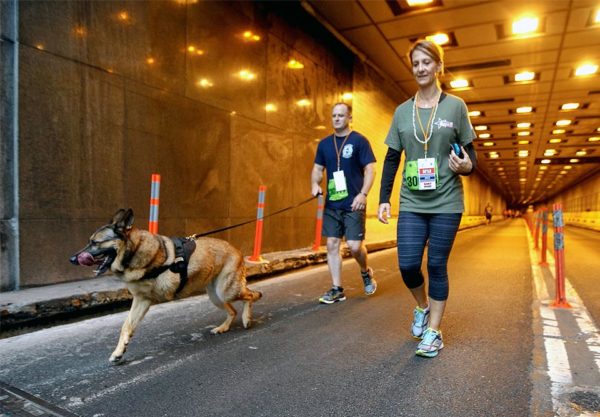 On her final mission in 2012 in Afghanistan, the German Shepherd/Belgian Malinois mix had discovered a weapons cache and one IED and was looking for a secondary device when it blew up. She suffered serious burns to her chest and lost her left front leg. Thanks to quick action by handler Corporal Juan Rodriguez, who applied a tourniquet, along with an emergency evacuation and the efforts of medical personnel, Lucca survived.
Cpl. Rodriguez stayed by her side during her surgery and recovery. As he said, "She had saved my life on so many occasions — I had to make sure that I was there for her when she needed me." Lucca recovered and was up and walking on her remaining three legs in just ten days.
On April 5th of 2016, Lucca received the prestigious Dickin Medal from the People's Dispensary for Sick Animals (PDSA). This medal is the animal equivalent of the Victoria Cross – Britain's highest award for military valor. The medal has been awarded since 1943 and is the highest award any military working animal in the world can achieve.
Lucca is the first American Marine dog to receive this award. As PDSA's Jan McLoughlin said of her: "Lucca's conspicuous gallantry and devotion to duty makes her a hugely deserving recipient of the PDSA Dickin Medal."
Her first handler, Gunnery Sergeant Christopher Willingham, was with the heroic dog for the ceremony. He was Lucca's trainer and the pair deployed twice together to Iraq. He credits her "incredibly intelligent and loyal" personality for her highly successful military career.
Sgt. Willingham told ABC News: "You can really see her processing information, applying what she learned in a combat environment… She almost knew what I wanted before I had to ask."
He continued, "Thousands of service members have come home because of the capabilities of our dogs, so it's always great to see their actions on the battlefield being recognized." Lucca came home herself after her official retirement in May of 2012 when Sgt. Willingham and his family adopted her.
This wasn't the first honor the canine hero received. During the 2013 Rose Parade, Lucca rode on the "Canines With Courage" float. The float featured a mock-up of the national monument that will honor U.S. Military Dog Teams. How fitting for this heroic military dog to honor her own!
Read the full story of this remarkable Marine dog's military career in her biography 'Top Dog' by New York Times bestselling author Maria Goodavage. See what Lucca is doing now on her Facebook page and contact Canine Commander for help training your best friend.