Find a Forever Home for a Trained Bull Terrier from Long Island
Hi, My name is Akira, and I would like to introduce myself. First I want to let you know that after several attempts by my human caregivers to find me a forever home I wanted to speak up for my dog self. Figured I would come online to introduce myself to all the people who are looking for a great pretty Staffordshire Bull Terrier girl like me to join them in living a life of plenty of fun. Help to adopt trained dog Long Island that would be perfect for your home.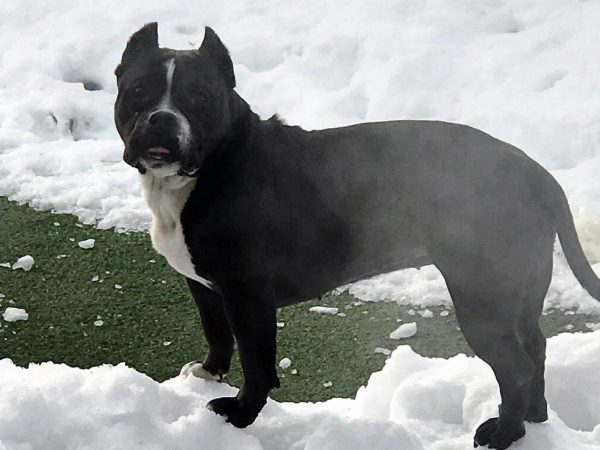 You see, I am a very sociable gal who likes to have fun spending time with friends and family so why sit here when I have so much to give? I love to take walks and play games, children are very fond of me, and most people say I am a very beautiful dog they would be proud to have. How about you? See my picture, am I not one of the most lovable dogs? I do hope you will help me be a part of your life or a friend's life so we can enjoy many years together.
So here I wait for you. A two-year old beautiful slick black and white American Staffordshire Bull Terrier reaching out to you with a paw of friendship and love to help me find a forever home where I can love and care for a human family like all dogs deserve.
I was fully trained in obedience and manners, house broken of course and a graduate of Canine Commander Training, contact them to learn more about how well-mannered and obedience I am. Most importantly, I have a large amount of desire to please the family I live with. I am outgoing, easy to handle and speak to plus I like to do what told with love.
View a recent video of me on Facebook to show you what a sweet dog I am. Please help me find a new home asap. Please share and like my video so I can find my new somebody to love.
To learn more about Akira and adopt trained dog Long Island, please contact Canine Commander or call Chris Hanley at 516-503-5527.